Trend Alert: Color/Winter 2015 Fur Fashion
It seems that designers all around the globe not only got the memo that fur is the "it" fabric for Fall/Winter 2014-15, but that colored fur is where it's at! And as the cold weather hammers regions across the country, fashionistas are brightening the streets in these "happy color" furs creating a playful rainbow of fashion fun.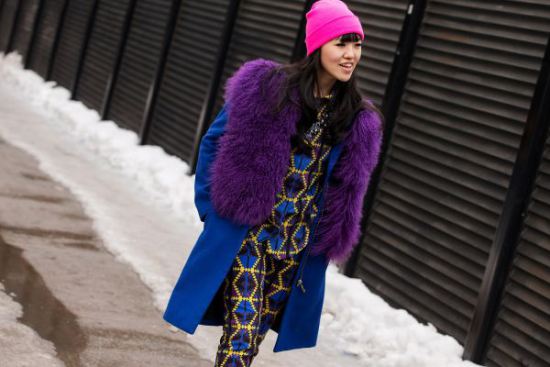 Color dominated the runways for fall 2014/winter 2015 and fur fashion followed the trend, taking inspiration from the playfully vibrant and much-loved Crayola box .
This season the barometer for color is vast. Shockingly electric tones scream fun, funky and fearless while the more muted and modest tones allow reserved fashion lovers to embrace their love of color with a bit less drama. If "dull watt" appropriately describes your level of color comfort this fall don't worry! There are a slew of options for you too.
For those who fall somewhere in between on the color spectrum, we suggest the deep and rich, yet vibrant and saturated jewel tone colored fur options which we've personally fallen in love with. Classic in their richness of color, and featuring an almost chameleon-like nod to colors seen in the most exotic rainforests, these hues are universally complimentary, bold, and still provide that winter "pick-me-up" to help overcome those cold, grey days.
Whatever your color range, or tolerance, one constant remains true; a touch of fur, no matter the color, will ensure that you make it through the tough winter months in grand style while giving off a warm glow.
Related articles