Spring/ Summer 2018 Collections Reviews PART 6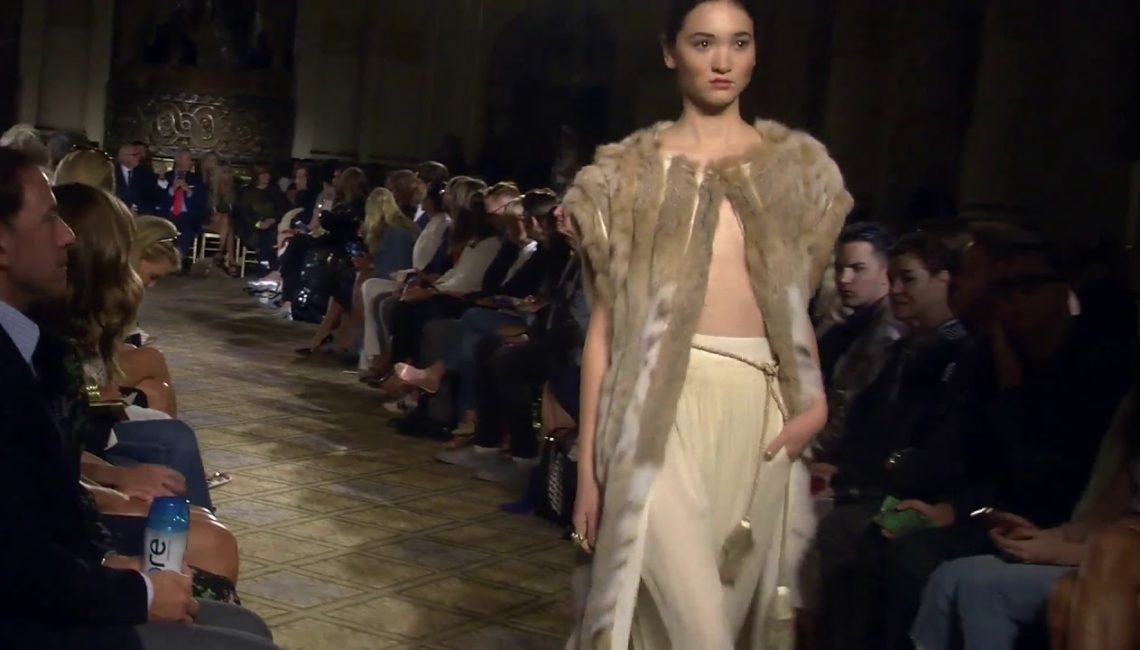 From the uber-luxe designs of Dennis Basso to the youthful exuberance of the street-savvy Libertine looks, the Spring/ Summer 2018 collections continued in New York.  Though fashion may mean different things to different people, most would agree that fashion is an important means of self-expression.  It allows the wearer to communicate something to the world about who they are, how they live their life, what they are feeling.  And from the broad range of styles this week, Spring/Summer 2018 promises to offer a rich vocabulary from which anyone can create their individual style story.
Uber-luxe and Street Chic in the Spring/ Summer 2018 Collections
Those in "the know" know Dennis Basso. For those who don't, school's in session. Basso, in his spring/summer 2018 collection, demonstrated why he's a designer savant way ahead of his time.   Displaying his penchant for luxury beyond expectations, he used the finest jeweled fabrics, satins and chiffons and punctuated them with his signature fur creations. White sheared mink and fox capes had a modern, elegant appeal. A fox cape tipped with multi colors was an unexpected surprise. A delicate lynx jacket was among our favorites from the collection. When it comes to luxury fashion designers, Basso continues to show why is at the top of the heap.
The Derek Lam spring/summer RTW collection for 2018 was exactly what American sportswear should be. Clean, crisp tailoring reflected just the right amount of restraint. Bold, solid colors touched with leather trims created a dramatic and unique effect.  A must-have piece came in the form of a brown leather blouse that would be the work horse of your wardrobe with limitless styling options. The suede trench coat is becoming a trend and Lam's version was in a happy marigold color that made us smile.
Zadig & Voltaire's SS2018 RTW show was a mash up of rocker glam with a lot of attitude. Providing head- to-toe dressing, they coordinated their looks with sexy stilettos or sneakers. The contrasts continued with a blend of sequins, sweaters, and slip dresses. While we've seen this kind of fashion where the rules don't apply, it seemed fresh coming from this 20-year-old Parisian contemporary label.
The trend for restraint and architecturally significant RTW continued at 3.1 Phillip Lim in his 2018 spring/summer collection. Sharp, angular lines applied to sleek, stiff fabrics made for solid basics that are sure to provide a strong foundation for any wardrobe.  A nod to menswear came in the form of pin striped blazers, cinched at the waist and paired with short shorts or voluminous pants. A pair of baggie black leather trousers were a departure from the otherwise structured separates,  but these were a key coordinate that kept things youthful.
Laura Kim and Fernando Garcia are in their second season at the helm of Oscar de la Renta and it's proving to be a daunting task. The question of the Sphinx is always "do you try to stay true to the brand or do you pave a new path?" In fashion, there is no real right answer but what your loyal fan base says does matter. Kim and Garcia succeeded in delivering a more youthful fashion approach that managed to be sophisticated and fun at the same time.  Splatter paint graphics and embroidered denim were among the highlights of their bold creative efforts.   But it was their fur designs that deserve special notice.  An intarsia white mink coat with cursive handwriting, a white broadtail with black lamb trim that looked like eye lashes, or a fuchsia/red ombre mink – each was unique and original, and could be collector's items for the true de la Renta fan.
Known for his over-the-top, audacious designs, Johnson Hartig took us down the rabbit hole on a psychedelic trip with his Libertine spring summer 2018 RTW collection…and we loved it!  He unapologetically reminded us that sequin appliqués are his thing.  Integrating lots of evil eyes and skulls in his designs, he added the banana as a new, whimsical, stick your tongue out and laugh at life symbol. Included in the line-up was a strong showing for men who like to have fun with their fashion and aren't afraid of individual expression.   If fun and energy are part of your style story, then Libertine is your answer.
The Zero + Maria Cornejo spring/summer RTW 2018 collection pulled together a lot of the trends that are dominating the upcoming season.  Color combinations of red and fuchsia and lots of satin fabric delivered daytime looks with a bit of a fancy edge to get you noticed.   The cropped pants with side slit ankle hem were a real stand-out.   Done in a frayed denim, these would have been great if offered in every color!
Related articles