Spring/ Summer 2018 Collections Reviews PART 4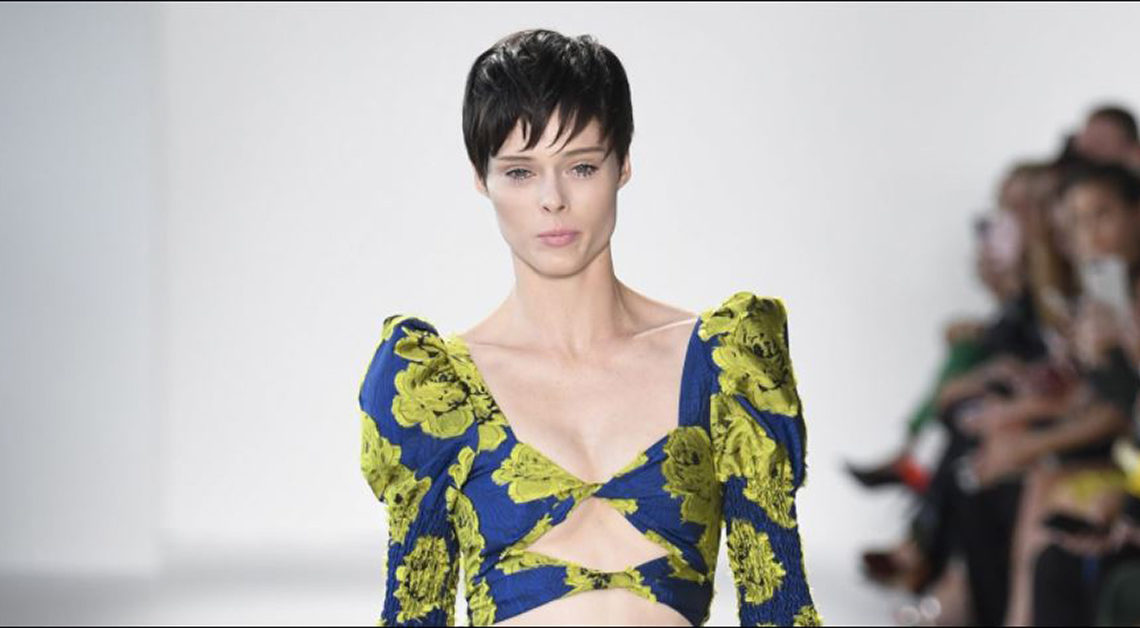 We are loving the soft, easy, relaxed feel of the Spring Summer 2018 collections.  These are wearable clothes with enough luxe appeal and design integrity to render them fresh and covetable.  From clean and crisp to flirty and seductive, designers are delivering a range of looks that celebrate all sides of womanhood.
Jonathan Simkhai's spring/summer RTW collection for 2018 gave a feeling of happy satisfaction. Languid looks, cut on the bias, floated down the runway like clouds dancing in the sky. Soft ivory, white and pastel colors furthered the airy feeling. His use of crochet for jumpsuits and dresses was boho chic cool. The high-waisted wrap belt continues to be a trend and Simkhai, to date, has delivered some of the best. A sky blue suede trench was a standout, worth a second look.
Hanako Maeda, the mighty force behind the brand ADEAM, put on her velvet gloves and gave a one-two punch of greatness in her SS2018 show. Rich satins and pillow soft organzas were pure luxe.  Adding high-waisted basket weaving gave these looks definition and direction. An Asian influence is definitely emerging as a trend this spring with obi belts and kimono shapes. While the collection leaned more towards the formal and delicate, perhaps not appropriate for everyday errands, it was interesting elegance for the woman who roams the world.
We love Christian Siriano's democratic approach to fashion.   Continuing to break boundaries, his SS2018 collection was all about inclusion. Featuring genderless models and clothes made to fit real people of all sizes, he came out strong with brocades and brights sure to make everyone look and feel good.  Per usual, his eveningwear looks were among his best.  Mr. Siriano loves a bit of drama and luxe after all.  Included were some architectural organza designs that evoked some of the extraordinary looks of Cher in her heyday.
Eric Schlosberg's SS2018 collection invites you into the world of the 'big nasty' but it is a trip worth taking.  His show notes explained that the collection was meant to chronicle Pam Anderson and Tommy Lee hitchhiking from LA to NYC. While that never happened, Schlosberg sure shows us what he'd imagine they'd wear and how they'd look doing it. A sexy lace bell bottom jumpsuit paired with a Pimp Daddy marabou hat was signature Pam Anderson. Men's tighty-whities made multiple appearances. In one adaptation they were crafted into a cute, wearable top. But let's just say this is not fashion to bring home to mom.
Leather bird cage hoop skirts topped everything from tee shirts and shorts to brocade ballgown skirts giving the Philipp Plein SS2018 RTW collection a bit of a bondage vibe. But unlike other designers, Plein somehow straddles the line between edgy and just the right amount of funk, managing to stay balanced and deliver wearable clothes.    Presenting women's wear and some men's RTW, a leather croc embossed moto for him was "move to the front of the line" fashion", the kind that is likely to cost you five figures but well worth the statement.   We are big fans of Plein and his hi-style, street smart, sexy clothes and this season just reminds us why.
If there ever was a collection that was simplicity at its finest, Jeffrey Dodd's spring/summer 2018 RTW has moved to the top spot. Absolutely gorgeous separates were designed to mix and match and make you feel fabulous. Skinny pants with ankle slits in the front are as sexy as it gets. Pair them with Dodd's custom pumps and you're half way there. Add one of his signature gauzy tunics, and you've got complete chic. Using the prettiest blues and turquoise colors, his line is a fresh approach for everyday essentials.
For all you 9-5 working women, Dion Lee has got some great style for you. In his 2018 spring/summer RTW, Lee played it safe with a lot of IBM grey. Dresses, skirts, and boxy tops will easily fold into a career woman's wardrobe providing strong wardrobe building blocks.  Perhaps a stronger demonstration of his creative talents came in his menswear, with nylon short sets, oversized moto coats and capri pants providing some interesting options.
Related articles