PARIS: Menswear 2017 Spring RTW Collection Reviews Part 1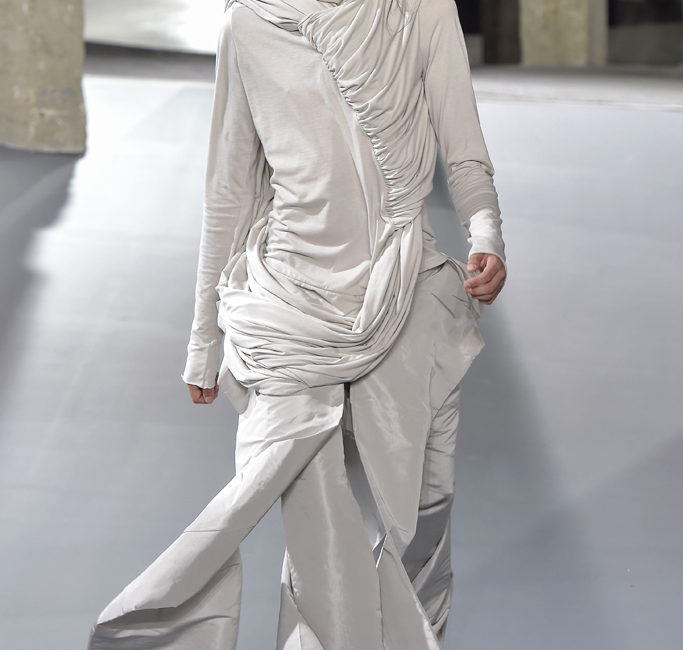 Rick Owen's menswear 2017 Spring show continued the trend of combining men's collections with women's wear on the runway. This was actually quite easy for the designer because his looks have been basically gender-neutral before gender neutral even became a "thing." His usual avant-garde style included toga type dresses with draping and twists of fabric. This season volume was punctuated with bursts of color to gave a lighter, happier feel than previous collections. A black nylon jacket with black rabbit fur lining was everyday, every way, a wearable favorite.
You know that ticklish, happy feeling inside you get flying down on a roller coaster ride? Well it's the same giddy glee you'll feel after seeing Haiden Ackermann's spring RTW collection. The looks were full of color and folly. Raw silk fabric gave the clothes a vibrant sheen and also showcased Ackermann's deft hand at tailoring. Here, too, were clothes made for men and women in a collection full of suited styles. Ackermann's pant silhouettes went from narrow legged cropped styles to carrot shaped pants and included some pleats which seem to be on trend as we've seen from other collections.
Issey Miyake has expanded his trademark aesthetic and has hit his stride for spring 2017. Miyake's Asian-influenced silhouettes were fresh and modern with crisp tailoring and easy volume for effortless and comfortable chic. Miyakes's trademark cool monochromatic looks were pervasive. What makes this collection especially refreshing is his use of color with a marbling effect. A wide offering of mix and match separates leaves you with limitless outfit combinations.
Sometimes knowing the backstory of a designer and their collections can be as interesting as the fashion itself. The house of Balenciaga, founded in 1919 by Cristóbal Balenciaga, is now under the leadership of Demna Gvasalia. Since his start last fall, Gvasalia has spent countless hours in the archives, dedicating himself to cultural assimilation. As luck and good stories would have it, Gvasalia unearthed an unfinished coat by none other than Balenciaga himself. The coat became Gvasalia's pet project, leading to the boxy, wide shoulder jackets that were the vast majority of the collection. But these were also juxtaposed against an array of sharp shrunken styles reminiscent of London's pop 60's stylings. Another cool factoid were what appeared to be pocket squares but instead were replica "fitting cards" that recorded a clients measurements in bespoke tailoring. As if these cool historical notes were not enough, Gvasalia included jacquard silk fabrics from none other than the supplier to the Vatican and the Pope. Phew…..this story reads better than Harry Potter novel with its twist and turns. Can't wait for the sequels!
Design team Maria Grazia Chiuri and Pierpaolo Piccioli of Valentino presented a polished perfection in their spring RTW 2017 collection. They were clearly driven by a desire to appeal to a discerning buyer with top drawer tastes. A need to honor quality tailoring where fit and fabrics were paramount. A passion for fashion that set this collection in a class of its own. A true testament to the best, they deliver garments that are beautiful on the outside but equally as exquisite on the inside. A 3/4 light weight topper coat was just that…..a panther motif in neutral colors, the coat caught a breeze down the runway that revealed inner workings that were a sign of Valentino's command of fine fashion inside out.