Paris Fashion Week Spring/Summer 2017 Collection Reviews Part 5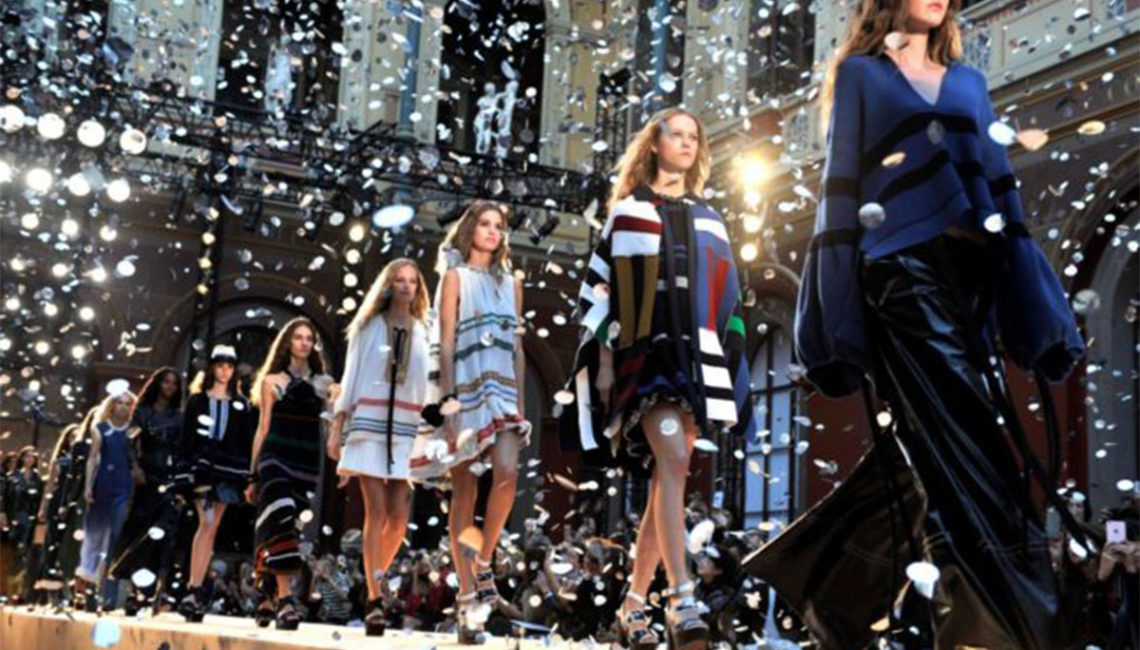 Designers showing their 2017 collection in Paris have not adapted the "See Now, Buy Now" mentality we have seen driving shows in the other fashion cities.  Here it is all Spring-Summer.  Ladylike looks are on full display with ruffles and flounces continuing to shape the direction and adding notes of romanticism.  The Eighties are celebrated in quite a few collections.  And throughout we are seeing that trademark Parisian sophistication and refinement.
Lutz Huelle is a master of the tease.  His hybrid shapes and integration of materials produced fresh, modern looks for SS 2017.  Nothing is as it seems at first, but these separates work.  Intriguing shoulder detail changes up a simple blue trench coat making it something unique and special.  A denim vest is fused with a crepe skirt creating the newest iteration of the wrap dress.  But he shows his tailoring skills on simpler silhouettes too, as witnessed in his pleated bias-cut dresses that illustrate what casual chic is all about.  Mr. Huelle has proven his sartorial savvy and we are duly impressed!
The 1980's called and they want their acid wash denims back! Well, perhaps we should make them wait a while. Veronique Le Roy has delivered some praiseworthy looks in acid wash for SS 2017, even rinsing it in pink. Continuing the Eighties theme, you could almost see the reflection of the disco lights on the silver lamé looks.  But Ms. Le Roy did not let the Eighties fully define her collection.  Mesh overlays on dresses and skirts were fresh and new.  The fluid silky blouses and open knitwear had a casual, cool edge that was perfect for spring.   A long macramé leather vest with fringe is one of the best statement pieces of the season.
A Commes des Garcons show is more of an intellectual treatise than a display of clothing.  An exploration of shapes and structure and precise detailing, the SS 2017 presentation showcased Rei Kawakubo's sartorial artistry.  Heavy fabrics and puffy silhouettes in dark tones and tartan plaids may not be very spring like, but who cares? This show was about challenging tradition and establishing new rules for defining future collections and in that, it was a great success!
If you are seriously into spandex than the Balenciaga SS 2017 collection is just the thing.  Spandex leggings in bright colors and floral prints were shown with oversized, boxy jackets or flowing handkerchief tops to create a contrast in proportions that defined the collection.  High-heeled legging boots offered an alternative to the sleek, sultry vibe of the leggings.  Pinstripe blouses with bows and peplums, a lace skirt and some fluid dresses offered a softer, more ladylike appeal.  As Demna Gvasalia attempts to put her mark on the label she may be creating a bit of confusion among the Balenciaga client.
Clean, simple shapes redolent of the 1960's brought a burst of spring optimism to the Yves Salomon SS 2017 collection.  It should be no surprise that the master furrier delivered some beautiful mink intarsia designs as well as a mink boucle design cardigan and a little mink gilet with beaded embroidery and fox trim.  A patchwork fox dress was another reference to the 1960's.  Salomon understands luxury fabrics and he manipulates the buttery leathers and suedes to great effect in RTW designs.  The Little Black Dress is redefined in horizontal mink and tiered fox.
Alexander Vauthier presented a SS 2017 collection perfectly suited to the urban "it" girl.  No matter the occasion, he got it right with daytime looks that veered from tough to sporty and evening looks that moved from sultry and sexy to modern elegance.  Chic just seems to come easy to this girl whether expressed in mesh, camo or silk taffeta.  Vauthier delivered a bounty of solid, wearable pieces including trenches, jackets, jumpsuits, dresses and even ath-leisure looks.
Looking for easy, languid summer style?  Look no further than Martin Grant.  His SS 2017 collection played with soft shapes and volume to create comfortable clothes that promised effortless style.  The straightforward color palette of black and white, tan and blue was punctuated with a handsome optical striping that could transition easily from warmer months to fall.  These were clothes with a purpose including a dress that doubled as a gilet and "must-have" separates including great Bermuda shorts and relaxed menswear shirtings.
Related articles