Paris Fashion Week Spring/Summer 2017 Collection Reviews Part 2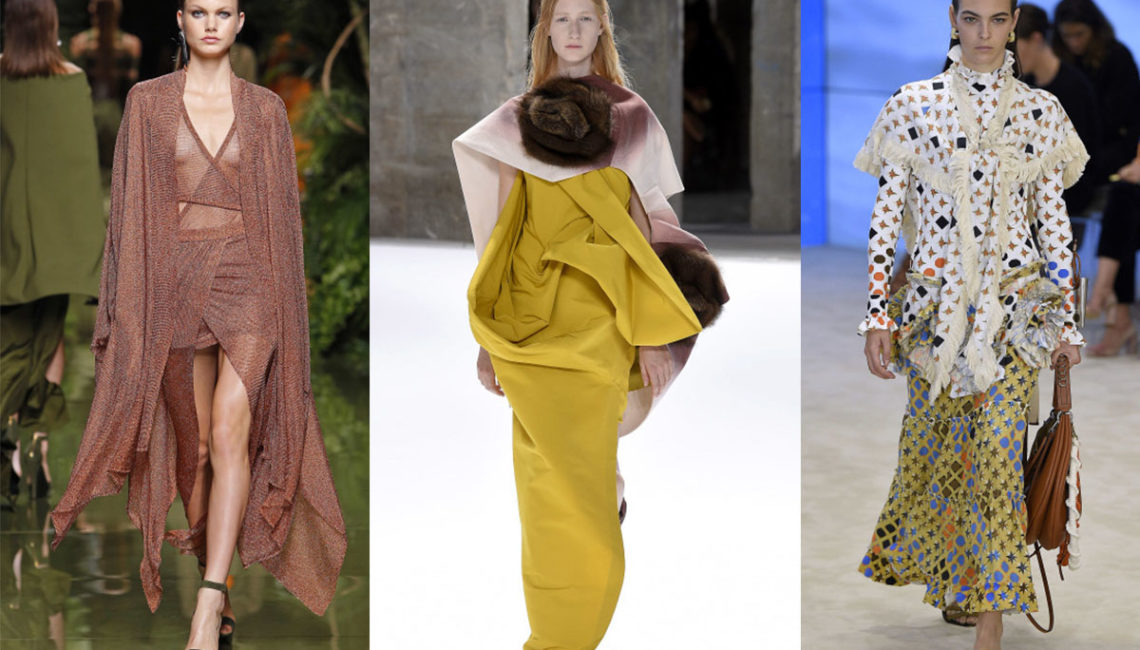 Provocative and mesmerizing, the Ann Demeulemeester spring RTW collection for 2017 left an impression long after the show was over. Largely a menswear influenced, suited fashion assemblage, Sébastien Meaner made his muse a sexy powerbroker. Black pants, cut away tops, and crisp white blouses displayed his deft hand at precise tailoring. A little bit of Madonna's Express Yourself video persona came through in these clothes with their deconstructed silhouettes, rocker edge and a sophisticated presence throughout.
A full-length, chestnut brown, alligator-embossed leather coat simply slayed the Balmain spring 2017 RTW runway and set the tone for a parade of looks that shouted "I like my money right where I can see it – on my body." The show rendered an 80's theme adding metallic knits and lurex leggings. Cut-outs and sheer fabrics lent a modern, sexy edge.   Unfortunately, upon first glance, some of these "slinky" looks weren't especially flattering on the models which might translate into bad news for us commoners. Flowing Silk crepe dresses produced some softer, prettier looks.   A few suede pieces jumped out at us as wearable, "got to have it now" chic. A suede two-piece mini-skirt and caplet was a standout.
If you consider yourself a risk taker, maverick, and one who pushes the boundaries of convention, then Rick Owens spring 2017 RTW will speak to you. In past seasons his innovative shapes and silhouettes have sometimes been unwearable, but for SS 2017 Mr. Owens delivered fluid looks with shifting volume that managed to be romantic and pretty. A mummified, gauzy draping will allow for multiple styling options depending on how you wear the pieces. Owens added mink detailing on some looks which gave a rich depth and luxury.
The ruffles and volume that have emerged as key trends for the fluid looks of the season showed up again here in the Loewe SS2017 collection. Creative director Jonathan Anderson said, "I like the idea of thinking about this woman in her apartment. And I like the idea of continuity, slowing it down." Gauzy dresses touched with fringe reflected a comfortability and ease in the designer's approach. Accessories stole some of the thunder of the show and rightly so. Showcasing Loewe's trademark artistry, large whip stitched leather bolsa bags, high-waisted, geo design colored belts, and Avant-guard jewelry were some of the special touches that enhanced Anderson's idea of his woman surrounded by her objects de art.
If you're the kind of girl who has a hard time choosing,  Alexis Mabille's SS 2017 collection may be tailor made for you.  Full of solid, wearable looks, these clothes will handily take you through all the occasions of your week. You can't go wrong!   Great use of color augmented with bold striping, and easy silhouettes with handkerchief hems, oversized pockets and comfortable draping all played into effortless style. If we had to pick a favorite it might have been the salmon colored jumpsuit with sunshine yellow silk varsity jacket. It was a perfect balance of elegant and athletic-chic.
Relative newcomers to the house of Courrèges, design team Sébastien Meyer and Arnaud Valiant are in their third fashion season and still trying to hit their stride. For SS 2017 they stayed true to the DNA of the label delivering contemporary sophistication perfect for the jet set.  Crisp, modern tailoring gave the collection a polished, French edge. But a run of three specific silhouettes – a dress, trench coat and baseball jacket presented in three different colors – seemed a bit lazy.  Looking to a younger clientele they presented a blue jumpsuit with white piping and multi-colored leather one-piece with black leather skort.  Their sporty shearling jacket with leather and knit banding is sure to be one of the statement jackets of the season.
Related articles