PARIS Fashion Week Fall 2017 Reviews PART 8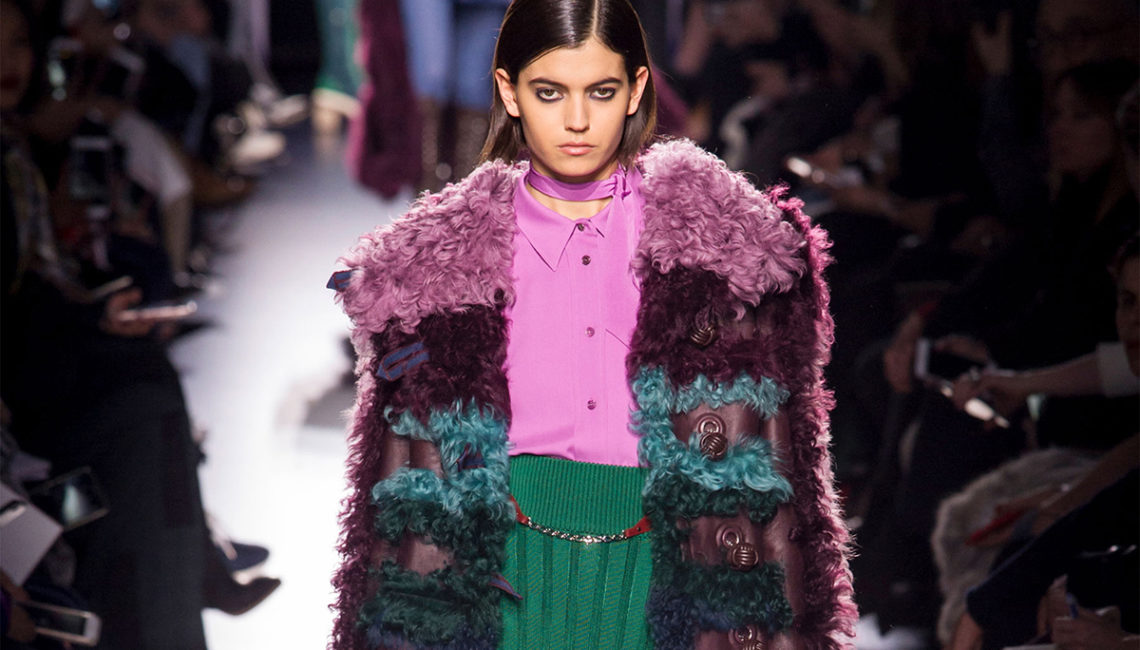 With just a few shows left it is hard not to recognize the impact of the Paris Fashion Week fall 2017 collections.  Fashion, like art, is a cultural barometer, identifying an era and reflecting the values and attitudes of the times.  And oh what times we're in.  The uncertainties of our geopolitical landscape have sent millions around the world marching in the streets.  Anxieties are running high.  As designers seek to address the zeitgeist of the era, the responses are varied.  The messages range from powerful to soft and cocooning to subversive.  It is all explored here with a focus on creativity, innovation, craftsmanship and tailoring skill.  Beyond the sartorial context, these Paris Fashion Week fall 2017 collections will undoubtedly serve as an important historical reference point to be dissected and discussed for generations to come.
Paris Fashion Week Fall 2017 Trends Continued
There was an unexpected duality to the Giambatista Valli fall 2017 collection.  Corsets and grommeted leather accents shared the runway with ruffles and lace and soft floral prints.  His signature style flouncy dresses were counterbalanced by Nike leggings paired with frilly blouses with bows.  It was a mash-up of ath-leisure, a touch of street style and a lady-like romantic vibe.  This is not that far-fetched though, since this is exactly the kind of thing today's modern woman is looking for.  A multi-media collarless coat that mixed diagonal stripes of dyed or stenciled mink, fox and curly lamb is what they mean when they say "statement outerwear".  An airy coat of white fox and feathers reflected the gossamer feel of the collection.
We love when a designer goes out of their comfort zone, pushes boundaries and shows a wild side.  It is an unexpected pleasure.  At Hermès' fall 2017 RTW show, creative lead Nadège Vanhee-Cybulski did just that.  Untamed curly lamb vests in a shocking array of color were a departure from the trim and tailored looks the house is known for.  Of course there were the requisite horse-y blouses, leather pieces and blanket ponchos along with one of the sleekest shearling motos we've seen.  For the loyalists, the house DNA was on full display.  But Vanhee-Cybulski could be a catalyst of change and youth for even the staunchest supporters of tradition.
If we had a dime for all the times we've heard, "It looks good on the model, but I could never wear that," we'd be, well, RICH beyond our wildest dreams. For their fall 2017 collection Jean and Judith Touitou, the designers behind the brand A.P.C., counter-punched that argument. Known for their approachable, wearable daytime fashion, the team put forth a solid collection of wardrobe staples including crisp white blouses and causal denim attire.  But it was their rabbit jackets that really caught our attention.  Simple and sporty they radiated easy, effortless chic.
If you wonder whether the essence of Parisian chic really exists, get a whiff of Longchamp's fall RTW 2017 collection and all doubt we be dispelled. Cool girl shearlings over leggings, mini-skirts, and ankle pants accessorized with the signature silk scarf tied at the neck were all the rage. Pastel curly lamb and shearlings were a hint of French savoir- faire that should include fancy perfume and lacy underpinnings. All that was missing was the little poodle in a purse.
There was NOTHING half way about the Unravel fall 2017 RTW collection. Huge, oversized curly lamb collars, liquid patent leather leggings and voluminous puffy coats in shocking blue and lipstick red will definitely get you noticed coming and going. Hooded sweatshirts compounded the urban message. We've seen denim done here and there but Unravel's floor length, light wash coat with ivory lamb liner was the bomb.  Their electric blue puffer with oversized shearling collar may redefine streetwear.
A human mission to Mars seems like child's play when you compare it to the decades long, ever evolving genius brain of Karl Lagerfeld. But when you've already conquered earth with your spectacular sartorial skills, it might seem only natural to expand this vision out into the universe.  For fall 2017 Mr. Lagerfeld set the Chanel show around a life size rocket and dressed the models in coordinated space boots and quilted, metallic shawls, suggesting that he is looking to the future. Distressed silver metallic leather suits adorned with ivory shearling were just as modern and stellar as anything NASA might suggest.
Related articles