Paris Fashion Week Fall 2016 – Winter 2017 Collection Reviews Day 5 Part 1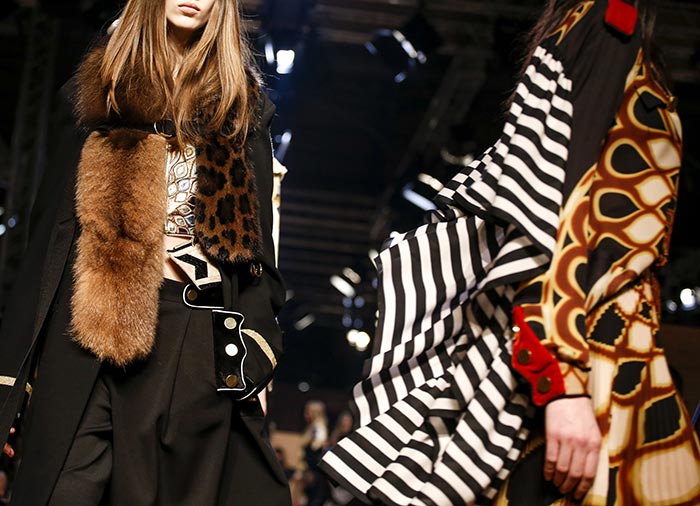 As the Paris collections continue it feels like things are back in a more commercial mode. To be sure there are some extraordinary examples of fashion artistry here, particularly in the draping and manipulation of fabrics. But we are seeing little of the out-of-the-box experimentation and creativity that makes for show-stopping looks, the kind that make flashbulbs pop to create images that dominate the editorial pages. That being said, fall 2016 looks to be a season that will offer plenty of solid wardrobe-building options at retail.
Ellie Saab has only one gear he operates in and that's in high gear. With his foot on the pedal, he launched his fall RTW 2016 on the fast track of fashion fusion. "Casual" is not in this brand's vocabulary. Maxi dresses with a seventies retro look were heightened to elegance with fine details of beading and lace. Leather and fringe suggested a rock-'n-roll edge. He incorporated black fox coats and vests and leather motorcycle jackets to finish the looks. A vest of black mink and leather detail with leather fringe was pure chic. Kendall Jenner wore the finale dress that was heart racing. A full length strapless gown with tulle underlay and leather cut to look like lace on top. Keep both hands on the wheel – Saab puts you in overdrive.
You may need a Master's in Fashion degree to really appreciate what's happening on the fall RTW runway at Commes des Garcons. Let's start by saying there is nothing RTW about the collection. There is no "buy now, wear now" or even "buy now, wear later" measure to the pieces. I'm not even sure how one goes about getting in or out of these outfits. With that said, it is a collection of creative, artistic expression and a true demonstration of what kind of skill goes into manipulating fabrics to produce fashion. On the whole, Commes des Garcons uses rich, heavy floral brocade fabrics to make tubular structures that ring around the body like a Transformer figurine. Other outfits are petals upon petals upon more petals of fabric layered like the Cake Boss did it himself. In a season that has been thin on over-the-top creativity, this collection was a welcome blast of fresh air.
Nina Ricci should be really, really happy to have Guillaume Henry at the hem and at the sewing machine. Henry has a penchant for picking materials that give his pieces eternal life. Rich wool peacoats are cut into loose fitting shapes with wide lapels that not only are sophisticated and tailored but move effortlessly. Midi length skirts and dresses, some with sequins, lend a polished edge. Delicate, lacey slip dresses, sheer blouses with bra tops exposed and clinging velvet dresses show a woman's sexier side. Coats of goat and fox are dyed in rich hues of lilac and green for strong outerwear statements. Wearable and beautiful!
There's no shortage of bling at the Valentin Yudashkin fall RTW 2016 fashion show. Rich lace treatments, shimmering fabrics and metallic brocades were embellished with detailed beading or velvet to deliver his trademark decadence. Finished with plush dyed fox trims, his looks are even more opulent. But there was a modern edge to this season too. A wrap-around puffer with black fox trim had a sporty, elegant feel. A textured black parka with gold fox trim was downtown cool. The green and black intarsia mink jacket with oversized fox collar even felt a bit mod. Mr. Yudashkin should have a new legion of fans with this collection.