NYFW Spring/Summer 2017 Collection Reviews Part 3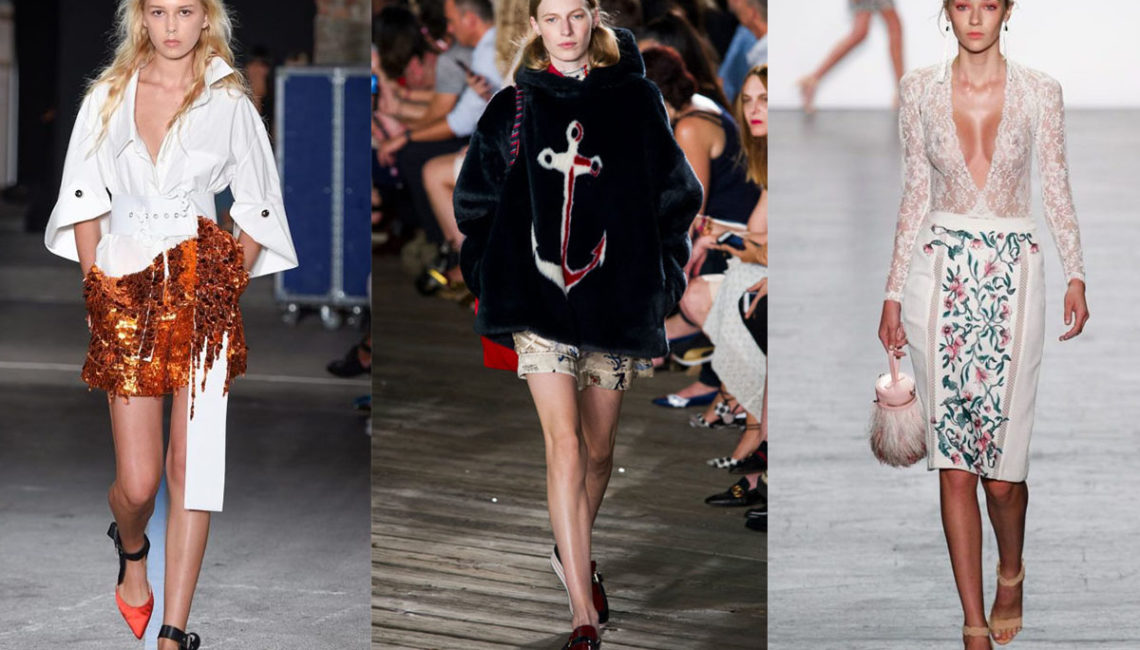 Marching into Day 3 of the NYFW Spring/Summer 2017 shows it's clear to see that the landscape, and mindset, of the "fashion show" concept has changed dramatically. From wild carnival scenes, to busy New York City sidewalks, to remote abandoned islands; designers are getting more and more creative with the backdrops they choose. For those who love fashion, this has been a spectacle that we treasure our front row seat at; no matter what the venue!
AKRIS
If you're a tried and true Akris client, then you're going to love what's in store for spring 2017….for the rest of you, get on board! Usually part of Paris Fashion Week, this was the first time designer Albert Kriemler showed during NYFW Spring/Summer 2017 and he gave the crowd of newcomers plenty to love. With a keen eye for luxury fabrics, the collection highlighted all the traditional Akris details with clean, sharp lines and simplistic styling. Kriemler finesses a more voluminous silhouette including pleats, flared legs, and cinched waists to create strong, modern looks that do not overpower the woman who wears them.  Welcome to New York Mr. Kriemler!
NICOLE MILLER
Oh, Nicole, Nicole……she's done it again. NYFW is well underway and designers are delivering collections that are anything but expected and predictable and that goes for NY darling designer Nicole Miller as well.  Her SS17 presentation showed how she continues to evolve her brand. While her pieces have historically been skewed to a younger customer, Miller included more sophisticated and forgiving silhouettes this time around.  Black jersey fabrics shared the spotlight with intricate, multi-hued patterns.  Mix and match separates were sexy without being raffish.  Lace and ruffles added a feminine, flirty appeal while sexy came in the form of bare shoulders peeking out from clever constructions.  All in all, it looks to be a promising season for Ms. Miller.
MONSE
A "You have to see it to believe it" kind of excitement and awe filled the room as the Monse NYFW Spring/Summer 2017 show came down the runway.  News of Lauren Kim and Fernando Garcia being named creative directors at Oscar de la Renta (their old home) upped the buzz and anticipation of this collection and required the late move to a larger venue.  The design duo didn't disappoint.  Deconstructed shirt/blouses perfectly highlighted bare shoulders to create a sex appeal that left us breathless.  Fresh architectural shapes with menswear roots in crisp white, grey pinstripe and khaki produced powerful signature separates.  Sequins provided the perfect bling and upped the glam factor of the collection.    This design team left us with a new definition of effortless chic. Not to be missed was a two tone powder blue jumpsuit with an asymmetrical top, cropped hem and wide belt at the neck. Hot!
TOMMY HILFIGER
We understand the idea of sticking to a theme, particularly when making such a bold move as Tommy Hilfiger did this season in embracing the "See now, Buy now" theme.  We get and appreciate when a designer knows his niche and customer but we are still a bit disappointed at this regurgitation of past styles passed off as new.  Tommy Hilfiger's SS17 show included extensions of the military and nautical themes of past seasons and, of course, his trademark preppy schoolgirl look paired with the already overused leather moto. Got it, Tommy, but what have you done for me lately? That being said, he showed some great knits and his 3/4 navy shearling captain's coat with the intarsia anchor on the back is sure to be a strong statement coat for the season.  For Tommy the objective with this hybrid show concept was all about leveraging social media to generate millions of impressions for each look.  Towards this end he had the help of Gigi Hadid (who co-designed some of the looks) and her huge fan base.  In the end he may have created the new business model that the industry sorely needs to bolster sagging sales.
TADASHI SHOJI
No one will argue that Tadashi Shoji is a master craftsman of all things ethereal.  Known for his work with lace, he took it up a notch for SS 2017 with delicate, fresh designs and beautiful flora and fowl embroideries. Shoji used ostrich feather trims to create drama and bold luxe.  Done on silks, satins, chiffons, and fine gauge tulle, the collection was very feminine…but did it seem too boudoir?
More to come from the runways, or roadways, of NY….
Related articles