New York Fashion Week Fall 2017 Collection Reviews PART 1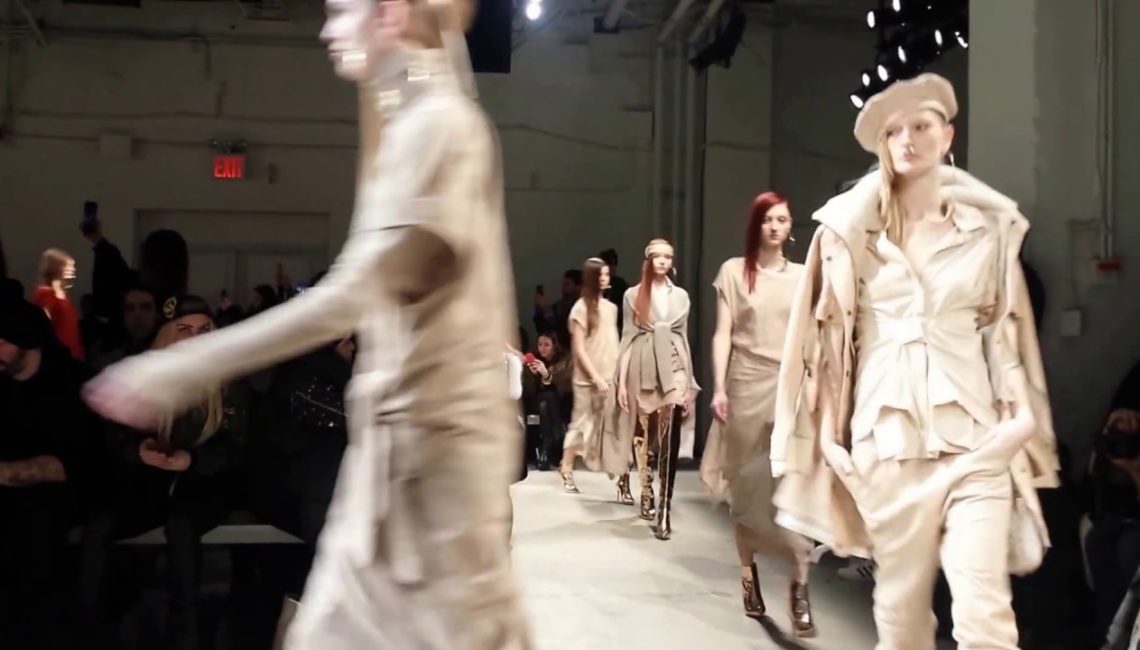 While the uncertainties of the current political landscape are creating turmoil all around us, inside the fashion industry there is tremendous change as well.  As New York Fashion Week Fall 2017 gets underway, the designer shuffle has taken many designers from old posts to new labels this season.  New York's role in the fashion cycle is being reconsidered while Los Angeles seems to be gaining in importance.  Show formats are being reimagined to break through the clutter. And then there is the "see now, buy now" approach that is impacting the clothes that come down the runways.  It all makes for an exciting New York Fashion Week Fall 2017 shows are sure to be filled with unexpected twists and turns.
New York Fashion Week Fall 2017 Trends Chapter 1
The husband/wife team, Laura Vassar and Kris Brock, that make up the label Brock put forth a fall 2017 RTW collection that was safe and salable. Preppy camel coats over taffeta plaids were prefect for a walk in Central Park.  Brock is absolutely making their name known in the world of fur, crafting mink bathrobe coats that are becoming a signature look.  Brock also tried their hand at cocktail and couture gowns. For their fall 2017 RTW collection.  We'd prefer they stick to what they do best-solid RTW separates and coats that can take you a million miles in a single day.
Not one to shy away from fanciful drama and whimsy, Helen Yarmak's fall 2017 RTW collection was all that and more. Brightly colored mink car coats, a baby pink mink cocoon jacket, and a teal green patent leather topper with mink lining were among the many choices that would add a smile to your everyday routine. A lynx cape is right on trend for the fall season and a "must-have" for any fashionista worth her right to a platinum card.  Unique to the Helen Yarmak collection was Russian ermine in natural white and dyed pink and raspberry.  Long the fur of royalty, Ms. Yarmak is putting ermine front and center in fashion.
There was a lot to take in and LOVE at the DeSigual fall 2017 RTW show. 50 lusciously layered outfits in rich and vibrant jewel tones, the excitement of the possibilities was mind blowing. With a touch of Etro's pattern mixing mixed with Jean Paul Gaultier's motorcycle chic, DeSigual made it more approachable for the every day girl who wants to get her groove on.
The tailoring and fabric choices at Calvin Klein's fall 2017 RTW show were nothing short of remarkable. For Raf Simons's first go at the brand's helm, he stayed true to solid suiting with lots of double breasted jackets of bespoke craftsmanship. Double placket breast pocket shirts in all kinds of colors were another strong wardrobe staple. Adding black leather, marabou feathers, and clear plastic over fabric were a hint at an edginess that might come in time for the brand.
The architecture of the garments crafted by Nicholas K for fall 2017 was something to behold and revere. Wraps, shawls, cargo pockets, and oversized moto coats could have been clumsy but the effect  was anything but.  Fine, soft fabrics including crushed velvet and cashmere made you want to reach out and touch these clothes.  The addition of colored and metallic leathers, a trend we saw in the haute couture collections, lent a mod street vibe.
There were some hits and some misses in the Tanya Taylor fall 2017 RTW collection. Prints in a wonderful color pallete of midnight blues and cornflower yellows almost looked like "home decor" designs, but  among them were some strong separates with heightened visual appeal.  Bohemian style dresses were nothing new but a cross-body shoulder ruffle gave it an "of the moment" appeal. Her use of fur was special and fresh. Fox collars and coats were worthy of a second look.
Related articles