Milan Fashion Week Spring/Summer 2017 Collections Reviews Part 1
The Italians take their fashion seriously. They have a healthy respect for the exceptional luxury fabrics, leathers and furs that have become their trademark and they handle them with the utmost care and skill. Welcome to Milan Fashion Week Spring/Summer 2017!
Alberta Ferretti takes a bit of a detour for SS 2017, adding a Western flair and some masculine touches to toughen up her usual feminine vibe. Rich, bold colors and tough leather bandeau tops are offset by light-as-air organza, ruffles and lace. Sharp, tailored pants share the runways with flouncy, tiered skirts and peasant tops. It is a genius balance that maintains her trademark soft allure without looking vulnerable. Her girl prefers effortless, comfortable, luxurious dressing and though these clothes are rife with details, they still manage to deliver the goods.
Blugirl has consistently been a go-to label for those girls that just want to have fun. For SS 2017 Anna Molinari delivered more girlish playfulness, this time with some Latin influence to spice things up. Many of the key trends we've seen for the season were on display including off-the shoulder peasant blouses, flounces, ruffles and tiered skirts. Opening with a palette of black, white and dusty pink, she kicked the energy up a notch with bolder patterns and bright colors. Dresses of black and white floral prints on organza were delicate and pretty. The Blugirl customer will have plenty to choose from here to cover her wardrobe needs for the season.
Francesco Scognamiglio brought an interesting twist to boyfriend dressing for SS 2017, adding crystal embroideries to masculine shapes in shirts, jacket and sweaters and pairing them with lace-hemmed shorts and skirts. Make no mistake, this collection was full of the pretty, feminine looks that seem to be trending this season. Lace and ruffles and even pearl beading were on the menu. The palette of cream, black and soft blue gave way to lovely, rich brocades. Shorter hemlines left plenty of leg to be seen for a young, sexy edge. Girls, let your boyfriends keep their shirts…..Francesco Scognamiglio has some better options for you.
Hervé Léger's iconic bandage dresses were given a new, softer twist for SS 2017. Lubov Azria focused on gentle colors including cream, pink and baby blue and added ruffles, satin strips and organza to bring a feminine, romantic touch. Some of the looks went a bit overboard with these details; if a little bit is good, more is not always better. For her clients she still offered some harder-edged and very sexy looks in black and white stretch fabrics with grommets. Worth noting – the fox-trimmed sandals. Hot!!!
You have to admire the creativity and craftsmanship that went into Gucci's SS 2017 collection. Plenty of the label's trademark glitz and glamour was on display. But there was so much going on in many of the looks that they came off as costume. Too much ruffle play, outlandish architectural shapes, fringed leather shoulder harnesses and raucous prints made for looks that are hard to wear more than once. We admit, among the looks there are some strong, wearable pieces that stand on their own including a windowpane double breasted suit ,a striped brocade jacket and a navy knit cardigan with matching pants. All else aside, we were giddy with the intarsia minks including the extraordinary orange mink with intarsia zebra graphic.
It was rock glam meets bohemian rhapsody with a dash of Navajo thrown in for good measure at Roberto Cavalli's SS 2017 show. As always, the house of Cavalli gave us plenty to look at with busy prints, decorative embellishments and bold accessorizing. It is somehow easier to carry all this off with the clean silhouettes including flared pants, fitted jackets, peasant dresses and kimonos. Fox collars and some of the most beautiful and intricate embroidery we've seen put this collection squarely in the uber- luxe category. Let's face it, you can't help but get noticed when you make an entrance in Cavalli.
To be sure there were some strong separates in the Max Mara SS 2017 collection including the crisp suitings in black, white and monochromatic tones and the easy, cool ath-leisure looks. But we were thrown by the heavy-handed jungle motif prints. The patchwork suede treatments in a dress, sweatshirt and coat stood out, but in a good way.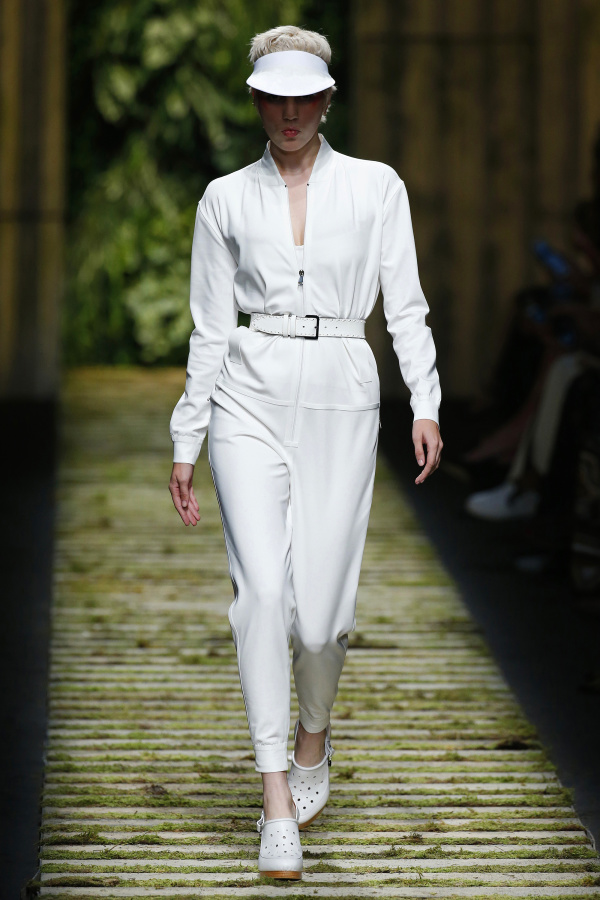 Related articles