Milan Fashion Week Spring/Summer 2017 Collection Reviews Part 5 Finale
Sometimes we wonder just how trends happen. Take the billowing sleeve, tiered skirts and dresses and ruffle treatments that seem to abound for SS 2017. How did it come to pass that so many designers coming from very different perspectives decided at the same time to incorporate these into their collections this season? Certainly trends can come out of pop culture. A movie reflecting a particular era can lead designers to include period references. If it is a blockbuster, and much of the public (including many designers) have seen it, one can easily understand the influence. But this season it is tough to understand the inspiration that has driven some of these key directional trends as seen in our previous collection reviews.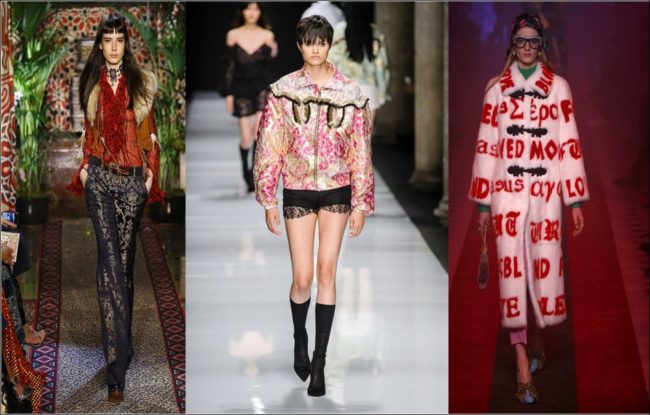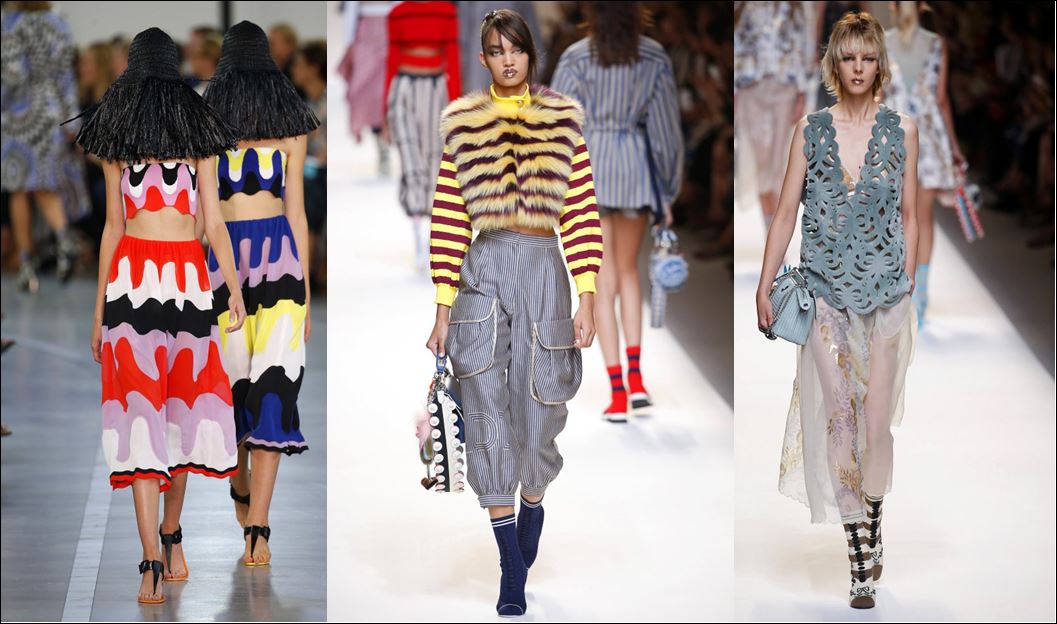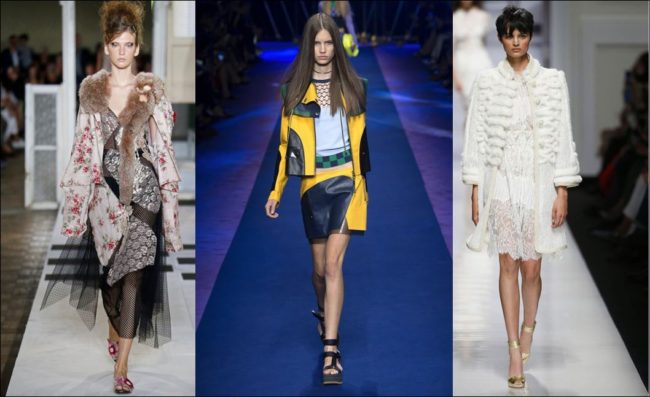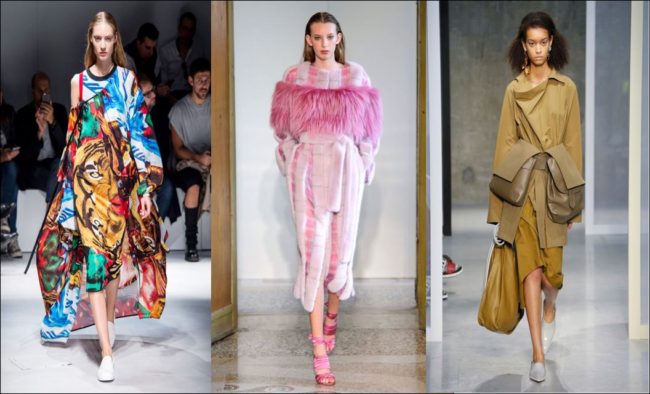 At Ferragamo, the billowing sleeve was on the menu for SS 2017. It was featured along with nipped waist skirts and dresses with flowy hems, pretty floral prints and enough bright colors to offset the browns and olives. All in all, it was a solid collection with pretty spring clothes and plenty of wearable separates, albeit a bit unremarkable. The excitement came in the perforated leather looks that were sharp and modern.
Gaia Trussardi seemed a bit unfocused with her SS 2017 collection for Trussardi. Yes, there were a fair number of solid separates, but between the metallic leathers, the soft hued patchwork suedes and the Lurex cycling shorts and leggings it was difficult to identify her message. Ruffle detail on dresses and tops gave the collection a feminine vibe, fringe on suede had a slight western reference and the triple tie cut-out tops added a sexy edge. These were not the luxe looks we've come to expect from Trussardi and in the end, we found ourselves wondering if this collection was about reaction rather than vision.
Giraffe print, tigers, cartoonish monkeys and fauna print framed the jungle theme for the Maurizio Pecoraro SS 2017 collection. Lace shirts, dresses and jackets provided the feminine touch; shorts, bra tops and mesh made it clear these clothes were for spring. An intarsia mink coat with giraffe inserts was fun. It was wearable and even a tad different, but it just missed the wow factor.
Missoni is renowned for their colorful, textured knits and for SS 2017 they relied on their trademark artistry to bring depth to a collection of simple, clean silhouettes. For this season they focused on tunic dresses, cardigans, tank tops and some barely-there bikinis – the shapes of spring and summer. And rather than the rich, complex textures that mark their fall collections the direction here was less complicated with bold stripes and contrasting colors for an visual appeal. Spring or fall, everyone needs a few pieces of Missoni in their closet.
Season after season Dean and Dan Caten deliver the unexpected looks and creative explorations that make fashion week fun. For their DSquared2 collection for SS 2017 they focused on the sleeve with puffy configurations in shiny satins, animal prints and even mink. But this may be the only cohesive element of the collection. A mash-up of bows and ruffles, plaids and military references and rich jeweled embroideries made it hard to define this collection. Still, there was a fun, young, irreverent attitude that is bound to keep their clients happy.
Bravo!!! Miuccia Prada flaunted her artistry for SS 2017. Classic silhouettes were redefined with a twist of tailoring, some decorative beaded embellishments and flyaway marabou feathers. The feathers, in fact, were a common theme of the collection appearing as cuffs and hems on tops and pants, and trims on skirts, dresses and even shoes. She even added marabou trimmed mink boas…an unexpected accessory. Bold plaids and prints and a medley of colors offered a buoyant energy appropriate for the season. The takeaway was ladylike, romantic and polished. A bit more demure than her usual looks, but exciting nonetheless.
We have to give a special call out to Mr. and Mrs. Italy for their whimsical parkas and active wear with pin-up and tattoo graphics and bold fur trims. Pure fun!
Related articles