Milan Fashion Week Spring/Summer 2017 Collection Reviews Part 3
Milan Fashion Week Spring 2017 marches on with designers delivering the sumptuous luxe looks we've come to expect here. Beautiful fabrics, exquisite use of color and skilled tailoring are the trademarks of Italian design. It's no wonder the women here make fashion looks so easy..and so perfectly chic.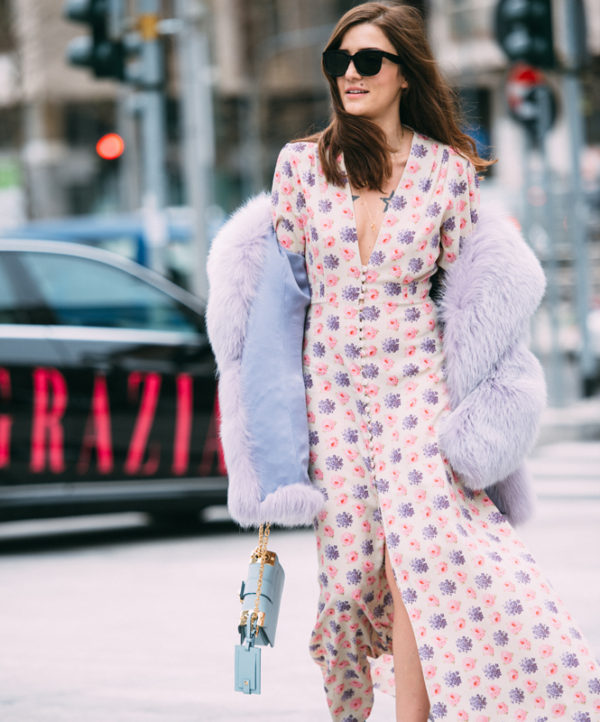 Even Diesel Black Gold, a label normally recognized for its harder edge, bought into the soft and feminine trend for SS 2017. This collection relied on tiers and flounces, ruffles and pretty floral prints to deliver the girlish vibe. Still, there were enough grommets and ties and olive greens to make sure that she was a city girl nonetheless.
What happened at Versace? Donatella Versace took a hard left turn for SS 2017 with a collection that put the sport in sportswear. Windbreakers, sweatshirts and track suits in bold colors and geometric patterns dominated the runway. Parachute material and jersey were the fabrics of choice to convey the athletic feel of the collection. But where was the Versace glitz and glam that we've come to love? The sexy cutouts and sensual, body-hugging shapes? The statement dresses that announced your arrival at the club? There were glimpses, as in the lace and crystal chain mail dresses, the baroque printed dress with deconstructed sleeves and the bright leather mini-skirt. Was it too little, too late for the Versace client?
Rodolfo Paglialunga's SS 2017 collection for Jil Sander referenced 1980's power dressing with padded shoulders, generous sleeves and imposing volume. Pin striping added to the confident vibe. Belted leather tops and a pumpkin colored leather trench provided modern, luxe style. These were clothes that made looking good look easy. Tight origami-like pleats applied to skirts and dresses created unexpected sculptural shapes and a perfectly understated elegance.
At last! This was the fresh, new creative excitement we've been waiting for! Antonia Maras presented a mash-up of textures, treatments, silhouettes and references in his SS 2017 collection, creating an entirely new fashion vocabulary. This was pure sartorial genius. Key trends of the season were on display here including lace, gingham and floral prints and embellishments, but they were artfully integrated with rough denims, fringe and animal prints. Pretty 1950's cocktail dresses, tailored jackets , sarongs and roomy coats all managed to work together to stay on message. Sheer fabrics and patches of fur trim provided romantic notes. There was a lot going on here, but if you took the time to absorb it all it was well worth the journey!
Do you remember the tag line from the recent Bottega Venata ad campaign, "When Your Own Initials Are Enough"? The promise that came with it was discretion, quality and unparalleled craftsmanship. Tomas Maier delivered on that promise for SS 2017 with a collection that defined sophisticated elegance. Rather than bowing to trends, Mr. Maier stuck to his vision of what it takes to create clothing that is luxurious, exclusive and enduring. Classic shapes reflecting refined tailoring and the most luxurious fabrics created clean, chic and timeless looks. These were investment pieces well worth adding to any portfolio.
There was something for everyone in Ermanno Scervino's SS 2017 collection. From sexy and sultry to pretty and polished, the Scervino woman will be fashionably covered next spring. Delicate lace and organza dresses shared the runway with sporty striped shirt and short combos and body-hugging leather jumpsuits. The sherbet colors and floral prints kept it all light and breezy – perfect for spring. A recurring theme, a military brocade, was an extraordinary twist when executed in white mink.
Related articles