MILAN: 2017 RTW Spring Summer Menswear Collections Part 3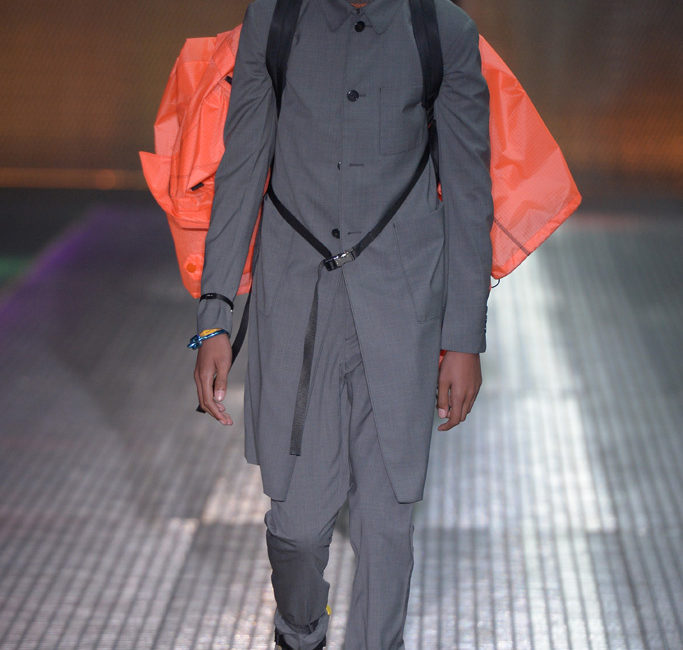 Miuccia Prada has made a fine career out of taking the road less traveled. Her work proves her as a visionary in combining fashion with art, yet she successfully maintains a utilitarian perspective first seen in her work in the 80's that put her on the map that still stands true today. The Prada 2017 RTW Spring Summer collection is a traveling man's companion. Her models are draped in practical accessories including water bottles, satchels, back packs – even a purse with a useful high-heeled shoe carrying clip – that maintain style in the midst of functionality. Integrating many tech fabrics like nylon and neoprene, these clothes beg for the world to be explored while tackling daily living on the way.
Plush tufts of fur in multi colors atop a trucker jacket was just one of the tantalizing texture details featured at the Fendi RTW men's collection for spring 2017. White quilted nylon jackets piped in brown leather were another tactile treasure that were just as pleasing for the eyes. A brown shearling bathrobe was the ultimate in luxury and self-indulgence….a perfect gift for the guy who has everything! For those who have a strong sense of self, a green curly lamb chubby is a lightweight fur for your next red carpet affair. Straps on bags with a wave pattern of pastel colors in yellow, purple, and green were, said Fendi, "like after a drink." Thanks, don't mind if we do!
The headlines coming from the spring RTW 2017 at Moncler Gamme Bleu were all about the fabrics. Technical, innovative, and fancy, textiles included plastic, rubber printed cotton, nylon, cashmere and linen. Known for their supremacy in outerwear, it was by far and away the astrakhan intarsia and Russian broadtail coats that stole the show. Short sleeved, solid color jackets or plaid cape in olive, tan and ivory would work with any outdoorsman's fantasy.
Wow! There's a lot of rock iconography happening in the Marc Jacob's spring RTW men's collection for 2017. A bit like traveling down memory lane with references to fashion from The Stone's and Bowie eras, it was pure Marc Jacobs too. Bold patterning, loud colors, and a very youthful appeal defined this collection which was eye catching and less fussy than most of what Milan has rolled out. While these looks might get you kicked out of the Ritz like a very famous VC just did last week, you can stand tall in your fashion solidarity at the bar down the street!
Can you imagine what 100,000 hand cut leather triangles made into a blouson top look like? The design team at Salvatore Ferragamo masterminded that and so much more. Carefully crafting the triangles into a foliage pattern, this was a piece for the museums. Raw silk suits and pants were among the fundamentals but made with a generous leg, exposed front pocket, and a cropped hem, it gave an artistic flair. Overall, the collection, with it's back packs, neckerchiefs and sandals, had a bit of a boy scout look and a lot of boyish charm.