2017 Resort Collections Review Part 4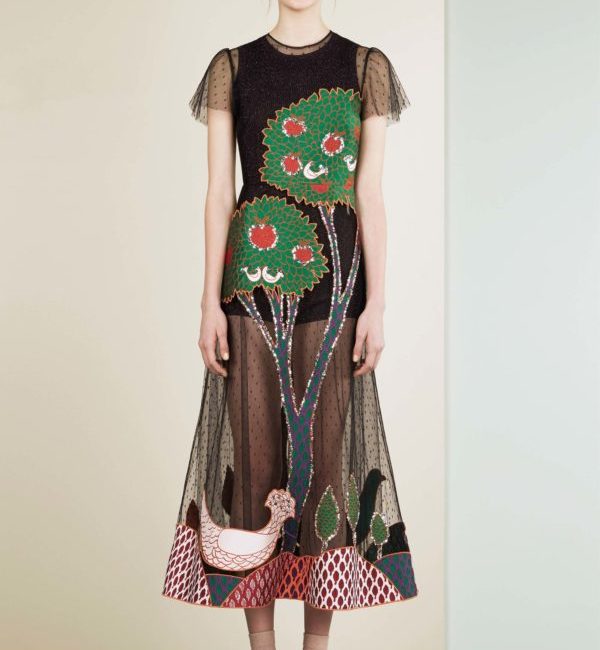 Wearable works of art is exactly how you'd describe the Red Valentino 2017 resort collection. Not because of their museum quality, though there is definitely some of that, but because the mythical forest motif designs looked like a 3D canvas in motion. Folkloric images in a sepia hue adorned dresses and skirts. Fine gauge pin dot tulle served as a backdrop adding to a fragile femininity that Valentino is so well known for. The humming bird played an important role in the collection and was appliquéd or painted on pants, dresses and toppers. Peter Pan collars made from mink perked up 1950's styled coats. Cheetah prints were interwoven against the patterns and furthered the retro vibe. Valentino Red label appeals to a younger audience who embraces high class vintage. This collection is that and so much more.
The Antonio Marras resort 2017 collection is like a costume exhibit at the V and A Museum. Historically significant and fittingly relevant, the silhouettes and pastel color story gave a nod to the 1930's "east meets west" fashion where each culture borrowed the best from one another. His pieces were, in large part, silk chiffon dresses with pretty prints and mandarin collars. A ruffled front or handkerchief hem line were further additions to the old fashioned appeal. A camouflaged trench coat was a standout. It looked like a belted coat dress, and with fancy plisse crafting, it presents equally well as both outerwear or for ready-to-wear dressing.
While we definitely appreciate the trend in collections presentations that is moving towards the buy now-wear now fashion model, we also appreciate season-less dressing altogether. Today's modern woman has one closet and it rotates around the clock, around the year, and cycles in a few trend pieces to keep it fresh. What Sally LaPointe does so well is to create timeless pieces with mix and match versatility, form and function, all while keeping her fashions special and fresh. Basic beige and ivory coats were trimmed with detachable fox fur which was one of many examples of the Sally LaPointe resort collection's ability to make simplicity simply stunning. The fabrics are fine and gentle making a transcontinental voyage a bit impracticable but, staying on trend, they are perfect wardrobe options for that staycation!
Shift dresses, short shorts, graphic prints, and stretch pants dominated the M Missoni resort collection 2017 – a 60's revival fueled by memories of Andy Warhol mixed with 80's pop and Roy Lichtenstein art. Using fabric that looked like silk faille-an unlikely choice for warm weather dressing- the clothes had clean lines, structure, and shape. Graffiti prints and pixel painted faces were reminiscent of a New York street scene. Silver grommets toughened up the looks. There were very few knits in the collection which is a shocking departure from the brand's tradition. Short, boxy sweaters with leggings or harem pants were incidental silhouettes, all leaving us "wanting our MTV."
Related articles