With springtime comes the spring-cleaning overhaul, everything from wardrobe reevaluation and discarding to sartorial upgrades. Now that the Fall-Winter 2012-2013 collections have come and gone, now that we know the main trends the fashion cognoscenti are going to push with a vengeance, why not look at that older coat you've been wanting to update and head down to the furrier for that remodel?
The A-line coat is by far the most popular type, but in recent years the "Chubby" – that voluminous jacket/short coat– is making the rounds and adorning its fair share of youthful frames. Its Michelin Man allure looks amazing on young beauties where faces and legs become sartorial erogenous zones. So, if you have your hands on a "plum" coat in need of a redo, look no further than the Chubby!
It is somewhat funny to see a coat type popularized in the 1940's, revamped in the 1970's by couturiers, like Yves Saint Laurent (if you're in Denver, you can see it for yourself), become the must-have silhouette of the moment.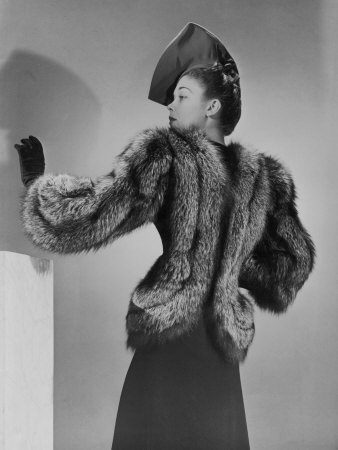 So what makes a Chubby? First and foremost, Volume! A chubby really needs a longhair fur type like fox, finnraccoon, coyote, etc., for greater inpact. Longhair goat is currently becoming a new favorite with slews of designers, as it can mimic other furs depending on its coloring (especially in wild hues) and how its pelts are sewn (upside-down against the grain looks phenomenal); so volume is the name of the game.
The best way to update a preexisting full-length coat is to give it a good chop! Think length, collars, even sleeves. The more classic chubby length is cut below the buttocks, but versions vary from hip to mid-thigh since way back; so, you don't have to be too strict. Some designers are also opting to remove the sleeves entirely and turn the look into an imposing vest… or a coat-vest in some instances.
If you feel more experimental, you can ask your furrier to transfer various parts (collars or sleeves, for example) of "the" preexisting coat and apply them to others you already own.  This mixing of fur types is more fashion-forward, but hey, have some fun with your remodel!
The great thing about shortening a coat is that it gives you a nice fur piece to use as a scarf, an oversized collar, interesting trims, or even a cute vest. Keep in mind that a good furrier is a good tailor, one with great creativity and taste.
Do you have an old coat you might want to remodel? Feel free to reach out to us with any questions.