There is something extremely elegant when women appropriate menswear elements into their wardrobe. Is it the exuding confidence? Or the simplicity of the lines that complement the femininity?
Appropriating menswear doesn't imply transvestism. We're not dealing with the 19th century writer George Sand. Think more along the lines of Hollywood starlets from the Golden Days who shocked some, titillated many, with their daring masculine garb. You don't need to be a Dietrich, Garbo or Hepburn clone to pull off the look successfully. Just look around at what the boys are sporting and give it a go! Isabella Rossellini has done it for years, successfully creating a signature look that is clean, chic and quite flattering.
Acquiring menswear elements is rather simple nowadays. Just look around at the menswear collections  in stores and on the street to decide what might look good on you. Is it the suit? … or is it the drape of the fabric, the design and texture of the textile, the substantial watch or that thick, heavy ring?  The lace-up business shoes perhaps?
Fashion is always on your side, so dare not worry. Yves Saint Laurent was not the only one to liberate women from wardrobe restrictions. His genius was to assimilate the menswear vocabulary and rework it to heighten the feminine mystic. Ralph Lauren doesn't shy away from it either; just check out his Western wear season after season. And let's not forget how Diane Keaton's relaxed menswear look in Annie Hall gave rise to a retail frenzy!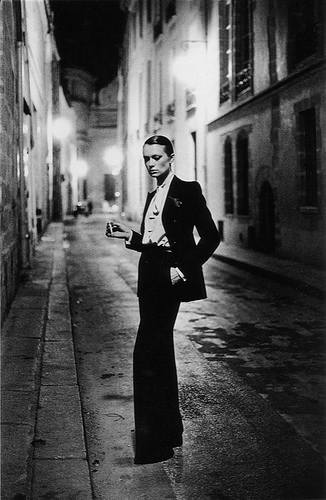 For many women the foray into menswear begins with the boyfriend jacket or the boyfriend sweater… that over-sized, comforting cloak that they pinch from their significant other for warmth and security. But if you are going beyond this and considering adding a menswear touch to your wardrobe, please look at your 'wants' and your body-type [what works on a ballerina doesn't necessarily work on Marilyn Monroe, and vice-versa]. Your savior is a good tailor who can rework any item to complement your natural silhouette.
Once you know what might look good on you and what fits your lifestyle, take the plunge! Remember, "menswear influence" is an open-ended term… you are in the driver's seat.
Next, the masculine influence on outerwear looks for the upcoming collections…